Welcome to Friends of Country Dance
Our goal is to provide you with the most up-to-date information on what's happening in Country Dance and some Swing in the Washington D.C. Metro Area including Northern Virginia, Maryland and surrounding states. Our website is a combined group effort of different dance groups, DJs, promoters and dance instructors, all contributing the latest information available.
Have a Country or combined Swing & Country Dance event to add? Contact us and we'll add it! We appreciate your assistance in making this website as accurate and as informational as possible.
Reminders
Support our venues!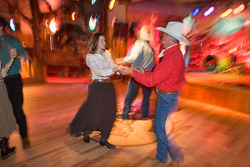 Please remember, the restaurants and clubs we frequent, pay instructors, DJs and bands in hopes of increasing beverage and food sales. The landscape is littered with clubs that either no longer exist or welcomed dancers for a while only to realize that the dance activties were not adding to their bottom line. This has been a big issue for country bars and establishments for many years. Remember, if you want to continue to have places to dance, support our local dancing establishments by making purchases. The owners aren't in business to provide you with free entertainment.